For Public Comments, all are invited to attend. Please view the dates below.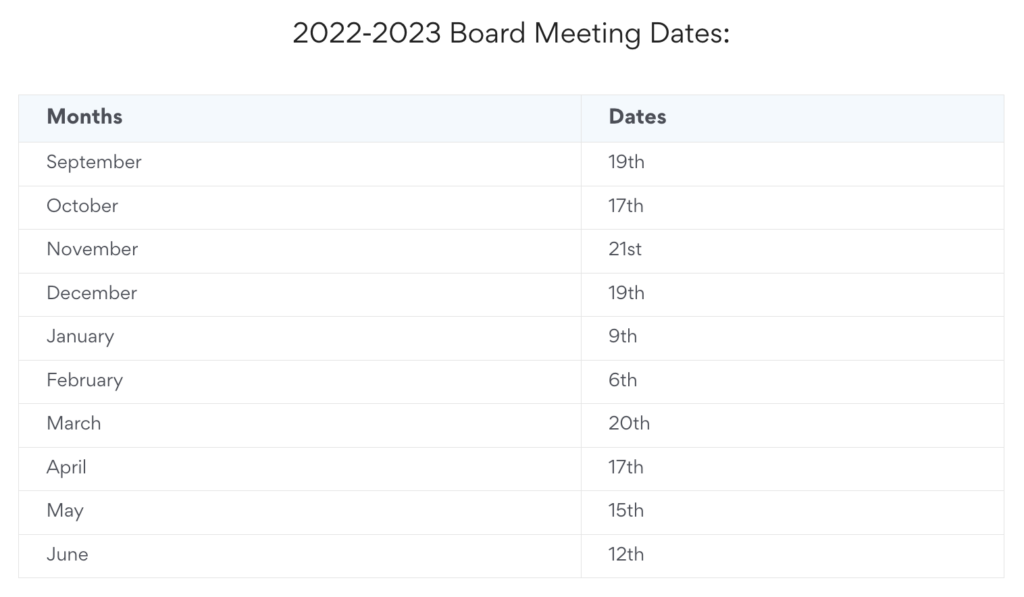 Brown: I found a new math program that really breaks down math on YouTube. I think it is better than Khan Academy. It is called All This Math and it is by an African American male, Akil Parker.
May 17, 2021

Lomax requested the Board Members to submit their 2020 Statement of Financial Interest.
March 15, 2021

Brown commented that Governor Wolf published information that SPED and TAR funds will be reduced. Brown asked if it is possible to do the Black Wax Museum program for the older grades and that she would be willing to volunteer to help.Elmore expressed her appreciation.
February 8, 2021

Brown: Regarding old business from the last meeting; where are we with regard to Board Members being more transparent.
Tyler: We are working on putting bios on the website and making virtual visits.
Elmore: When we return to the school building we can rotate the Board Members on the monitors located in the hallways.
Frink: Have you considered an E-Newsletter, perhaps to share the information discussed tonight such as the employee's vacation time, etc. Also, I attended the event held last Friday and was disappointed to find the HSA was not represented.
Brown: We were not aware of the event.
Elmore: Friday's event was specifically for particular families that would be receiving donations due to hardships, homelessness, etc. and was more of a community outreach program sponsored by Ms. Evans and her donors.
Frink: Regarding the employee vacation time, can that time be donated to another employee in case of sickness or hardship? Elmore: The Family Care Act provides for those types of issues. JYK DCS has been known to take care of its own.
December 21, 2020

Brown encouraged Board members to get to know JYK DCS, the school. Perhaps pop into a virtual class, etc. To the parents the Board looks like the presidency, an untouchable entity.
Tyler suggested a bio/who's who on a postcard and send it out. Fields noted the website has a picture of each of the Board members, if you send him a bio, he can add it to your website picture.
​Frink thanked the Board for their work. As a parent that is not in the household, he was not made aware of Report Card Conferences. Feels the Board needs to do more in developing all Members to engage in all meetings. I have three daughters at JYK DCS, what are we doing for gifted and talented students, or are we only putting efforts into the under-performing group? This is my only platform for interacting, as I have not received an email from any of my daughter's teachers.
Elmore: We have identified some mentally gifted students and they have IEP's. As it pertains to report card notifications, due to Covid, we have been sending a lot of notifications via phone blasts. I would once again, implore you to make sure we have your correct information in our database so that you may receive those notices. Anytime you have felt like you were slighted, please call or text me if you feel you are not getting what you need as a father. You can also check the website for every phone blast that is sent out.
​Taylor: I brought extra programming to my K-student's teacher. Are any of these applications going to be implemented?
Elmore responded, you should speak to the Principal, she would be the person to decide on academics. However, I will call you so that we can discuss it.
November 16, 2020

There is a service; Philadelphia Connected provides a Hotspot/free Broadband available to all Philadelphia students.
Elmore commented that even though it is free to the parents, the school has to pay for it.
Brown added, we have asked to be refunded that money because the CARES program pays for it. Brown: regarding the phone blasts, some parents are complaining about getting too many notifications.
Elmore rebutted that the parents complained when we did not communicate enough, now they are complaining they are getting too many notifications. We want to make sure that all important information is disseminated to parents and guardians. Since we are in
a pandemic, there is so much more information to be relayed, especially since practically everything has to be done electronically.
Collins added that so many parents are complaining about not being able to help their children. Is there any way we can assist parents?
Elmore answered, "We are not educating parents, and we are educating children. We will look into some Common Core Nights virtually and will update you at the next Board meeting as to how we can assist the parents. There are lessons on YouTube that parents can utilize.
Fields added, we have Zoom Chrome that has a portal that will allow teachers to post lessons.
Elmore added there will not be any tutoring provided by JYK DCS, however, some teachers may personally provide tutoring on their own.
Jackson asked Snipe about office hours at 3:30. Is that for students or parents?
Snipe added the hours are 1:30-3:30 for parents or students via email or Zoom. Jackson: What about materials distribution? I have picked up some, is there more?
Snipe: yes, test prep, curriculum, etc. there may be more in a month or two.
Tyler asked Brown about the PHL Connect Program and the program Elmore spoke about. Can we look at both programs?
Brown answered they are the same program. She gave the example of if you have more than 3 students in the house, the internet would not be able to handle it, thus the provision of a hotspot. Elmore asked, "If a family already has Comcast, they will give additional internet support? Yes, Brown answered. If you call 211 you may qualify for additional internet support.
​October 22, 2020

Taylor asked about communication via Facebook, Instagram, etc. besides the phone blasts and if those places would be updated as well. The Amazing Space Contest could be advertised on those forums as well.
Elmore commented that as it stands we are not using those forums for JYK DCS. At one time the HSA used it and there needed to be an administrator to post and remove things so that no one could put inappropriate material on the site. We need to determine how to use it more effectively and securely first. If you have some knowledge of how we could implement it safely and securely, I would be happy to meet with you.
Ms. Brown would like the school to look into a program called Go Guardian. She has found it beneficial as it allows the student's screens to be seen if they are doing their assignment as opposed to playing.
Elmore asked Brown to work with Fields to see if this is something we could implement. Fields commented that he spoke with the Go Guardian representative two weeks ago and is working on presenting it to the Administrative Team.
Frink speaking from the perspective of the parent that is not in the household as he is not kept abreast of what is going on at the school.
Elmore asked if he gets the blasts, and if he has spoken to Ms. Snipe about any communications that he may be missing.
Frink commented that the Instagram is needed as there is a whole audience that is missing this important information.
Brown commented that social media would help but we need to look into how to do so safely.
Elmore responded that is why we are attempting to put more information on our website.
Nelson asked about how the children who learn differently are being supported. The need for specialized equipment such as earphones or other devices so that the children can focus and learn despite the interruptions around them at home.
Elmore answered that the SPED team has ordered two different sets of earphones, thirty sets of wireless earphones so that every SPED student in every class gets the same level of learning.
September 21, 2020

Nelson asked, "With the Covid virus being respiratory and so many children having asthma, will there be a full-time nurse at the school"? Will the children be trained about the importance of wearing a mask?
Elmore commented, we have always had a full-time nurse here at JYK DCS. As for mask training, no. My suggestion for parents with a child that has asthma would be for the child to wear a shield as it would make it easier to breathe. All students will have partitions to the front and side of them. When a child gets behind the shield, they can remove their mask/shield.
Nelson asked if there is a diagram of how the class will be set up.
Elmore answered, not now, but we should have it for the Town Hall Meeting. Nelson asked if IEP's will be redone. Elmore defers any IEP questions to our SPED director, Ms. Philipps. Please email her: aphilipps@dcsschool.com.
​
Frink asked if the teacher gets sick or is diagnosed with Covid-19 and has to quarantine for 14 days, will there be a substitute that can continue with instruction.
Elmore offered, if a teacher is diagnosed, everyone will probably have to quarantine for 14 days unless the CDC directs otherwise. Frink continued, will the Reopening Plan be shared with parents? Yes, it will be on the website and shared at the Town Hall Meeting. Frink asked if there will be Frequently Asked Questions.
Elmore shared, "that is a good suggestion".
July 20, 2020

Jackson would like clarification of the virtual schedule. Does my 8th grader attend for a full day on Wednesdays?
Elmore answered, no, there is an A or B schedule for Wednesday, an AM session, 8 am to noon and a PM session, 12:30 to 4:30 pm.
Students that take the school bus will be in the AM session. Lower grades will not be in attendance at all on Wednesdays.
Jackson asked if there will be before care.
Elmore answered we are working on before care, but there will be no aftercare.
Jackson asked about the transportation opt-out.
Elmore replied, we have not received any information on it but have heard there will be an award of $150 for students that opt-out of transportation. We will have Mr. Davis, our transportation coordinator to get clarification/confirmation.
​Jackson asked if uniforms are required for the middle schoolers.
Elmore answered not for e-learning but yes, whenever they are present in the school. There will be a dress code for e-learning.
​Jackson asked for the students in grades 1-5, when they are not in school, will there be asynchronistic learning at home?
Elmore answered, they will have assignments, but they will not be online. They can email the teacher if they have questions. Wednesdays the teachers in grades K-5 are for all intents and purposes off. Their hours are extended to 4:30, beyond their contractual hours so on Wednesdays they will make up any prep time or any time missed during those 4 days.
Also, Wednesdays will be a day for deep cleaning and sanitizing.
Tyler asked about scheduling. When will we know which students will be in the A or B schedule?
Elmore: as soon as we get the bus list, we will be able to do the entire schedule.
Ogilvie asked if siblings will be put in the same time slot.
Elmore responded, yes.
Taylor asked when the parents of kindergarteners will receive information on first day, parent drop off, etc.
Elmore replied that information should be provided before the end of the week.
August 17, 2020